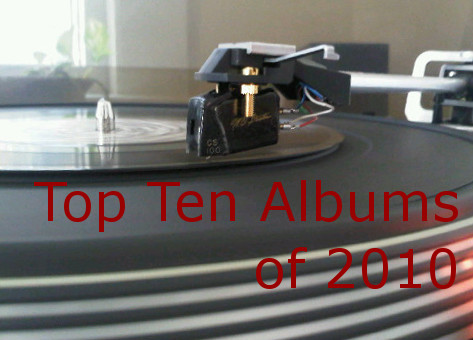 It's that time of year again and I'm finally ready with my favorite records of 2010. These have been selected by an utterly subjective process of constant listening to almost exclusively 2010 releases for the past couple weeks. This has allowed me to rediscover a couple records that perhaps came out early and have since fallen off my radar (none of those made the cut) and also to catch up with some that I missed altogether and, of course, the more recent releases. Here you'll find all kinds of music (Country AND Western!) but really only a sampling of the stuff that I really like to listen to and hope to listen to for years to come.
Here we go:
10 – Tame Impala – InnerSpeaker
Hows about of Australian psych-pop to kick things off. Seriously., a record like this is a good place to start anything. This record (and band) really captured my imagination in 2010 and it all started with the terrific single, "Solitude Is Bliss". There are weirder bands out there (Stardeath And White Dwarfs, anyone?) but these guys perfectly blend rough edged psyche with the polish of brit-pop.
9 – Aloe Blacc – Good Things
Proper soul music that nails it in every category: vocals, lyrics, performance, and arrangements. Elements of Heron and Mayfield are recognizable in this rapper-turned soul singer latest record. Oh, and how about that riveting take on VU's "Femme Fatale"? A good friend hipped me to this and I've enjoyed it from the first note.
8 – Admiral Radley – I Heart California
Jason Lytle (who topped this list last year) teamed up with two members from Earlimart and made their first appearances at this year's SXSW under the guise, Admiral Radley. The record soon followed and complements Lytle's catalogue with his humour and slacker psych rock. The songs are great, and the hooks are strong, making this a fun listen.
7 – Junip – Fields
This record came out-of-the-blue for me. a few friends were raving about it and I figured it would be just another indie record that I'd play once and move on but I quickly fell for its charms. Krautrock trances, indie-pop melodies and dizzying production that includes vocals nestled tightly in the mix make this my favorite driving record of the year- as long as the sun is up or I've had my coffee. Sleepy isn't the word but it can induce a meditative state if you are susceptible to such a thing. Myself? I might be; but I dig it, too.
6 – Broken Bells – Broken Bells
Danger Mouse has led a semi-charmed life on this site of late. This project, a collaboration with The Shins' James Mercer, continues the win streak with a collection of entrancing songs. The hooks are stellar and the whole record pays off with repeat listens. This is another one which did take a few listens to fall for the entire record (although the opening cut, "The High Road" is one of the more infectious pieces of the year) but it begged additional listens and the reward is rich.
Click through to see the top five and more! Continue reading →