Grandma Sparrow is a new project from Megafaun's drummer, Joe Westerlund.
It's a wild, trippy, work that runs more akin to 200 Motels Zappa than what you might expect from Megafaun. Sporting costumes to represent various characters in the lysergic nursery school narrative, Westerlund leads the band and the audience on a wacky journey that must be witnessed.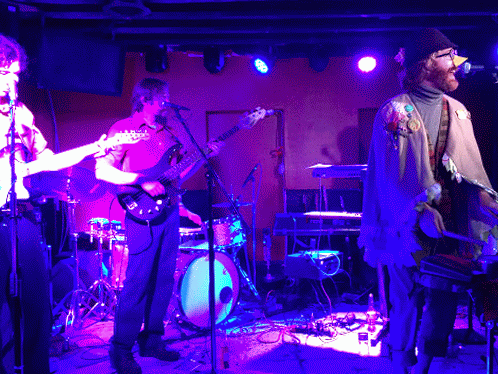 The band that Joe has backing him is killer (Canine Heart Sounds from Durham, NC) and their efforts reveal that this is no lark of a comedy show. The music is serious and swings quickly from what could be a psychedelic spin on Alice Cooper, "This Is My Wheelhouse", to a "Twelve Tone Lullaby".  Watch for these guys to come around.
Check out a track here.
Next up was Megafaun. They've basically been on hiatus while each guy does their own thing and, aside from these dates this week, that hiatus isn't over any time soon. So this was special. Their old friend Justin Vernon (Bon Iver (in case you live under rocks)) had pulled them together for a thing this weekend and they turned it a week of rehearsals, hanging out, and three public shows. (Tonight they play Baby's All Right in Brooklyn, NY. If you can go, GO.)
The four piece band took the stage with Brad and Justin switching off bass & guitar throughout the night. I'm not going to pretend to be an objective rock journalist here. I love this band and I've gotten to know these guys a little bit and I could not be more biased. They played great songs and they fun they had on stage radiated out into the crowd who was also having a great time and watched rather attentively. Continue reading →