I was going to write a pair of posts, much in the vein of my recent Phish anniversary posts, describing my adventures at the final Grateful Dead shows at Washington, D.C.'s RFK Stadium. But I can't think on those shows without peeling back a scab that, somehow, isn't quite healed. These two shows were not my last Grateful Dead shows. That one is chronicled here: All The Years Combine. I think that it's been difficult to write about these shows because of what the annual tradition of the Grateful Dead at RFK Stadium meant and, how the void has never been filled.
I attended my first concert at RFK Stadium. Not just my first Grateful Dead show; my first concert. I became instantly hooked on Grateful Dead. The magic that they and the audience injected into the mundane urban stadium was equally intoxicating. The stadium itself resonated with energy. Even though, objectively, the first show I attended was the best overall performance I'd ever see from the Dead, I returned to RFK each year. In between, I went to as many other shows, in as many other cities, as seemed reasonable. Btu I always went back. My batteries recharged in that stadium.
Cold Rain & Snow - 1991-06-14
By the time the Dead came around in Summer of '95 I'd seen several shows in the Winter and Spring and had attended a pair of stellar Phish shows the previous week. I went to RFK with what had become my local touring crew, several of whom I still travel with to this day. For the first night, we settled into seats low on Jerry's side about one-third of the way back. I've no recollection of what seat was indicated on my tickets because RFK was reserved seating on paper only for Grateful Dead shows.
Dylan's opening sets were pretty good. I'd seen him a couple times before and these were the best yet. The treat, of course, came on the second night when Jerry joined him onstage for his encore. I was on the field on Phil's side when Jerry joined in for "It Takes A Lot To Laugh, It Takes A Train To Cry" and "Rainy Day Women #12 & #35". Jerry was engaged and played well. Dylan also seemed more engaged than on the previous night.
Listening back, I can hear the ups and downs of the first night. Bruce Hornsby's presence had remained a regular occurrence for the D.C. shows since the end of his brief tenure in the band. This weekend he was in full effect with a piano onstage rather than relying solely on his accordion. I've always been a Hornsby fan. When he played with them in the early 90's he pushed Jerry and encouraged him to try harder. That pushing is less evident here and their interplay less pronounced.
1995-06-24 – RFK Stadium, Washington, D.C.

Set One: Jack Straw, Althea, Little Red Rooster, Friend Of The Devil, El Paso, So Many Roads, The Promised Land

Set Two: Iko Iko, Way To Go Home, Saint Of Circumstance > New Speedway Boogie > That Would Be Something > Drums > Space > Days Between > One More Saturday Night

Encore: Black Muddy River

*Bruce Hornsby on piano the entire show.
Even so, the band delivered some worthwhile music. Even where Jerry was lagging, the rest of the guys were in top form. "Jack Straw" and "So Many Roads" stand out from the first set. "New Speedway Boogie" into "That Would Be Something" is a strong combo. The former, in particular, is great. But the key takeaways are a moving "Days Between" and the heart wrenching breakout of "Black Muddy River".
Black Muddy River - 1995-06-24
Though this sentimental ballad was frequently played after its debut in the late 80's, it had only appeared twice since the passing of Brent Mydland. I've still no idea why it resurfaced but, the song's rarity was not lost on me. I recognized it at the opening riff and, after a moment's celebration, I stood and listened. I was only vaguely aware of the moisture on my cheeks.
The night passed and the next day came on grey and humid. We parked in the grassy lot alongside the the fabled filth of the Anacostia River (Black Muddy would be a compliment) and were not terribly far from the lightning strike that injured three fans. This was one of many ominous incidents on that Summer's Grateful Dead tour. Incidentally, the next event that I attended at RFK was the "Tibetan Freedom Festival" during which lightning struck an attendee inside the stadium. Scary.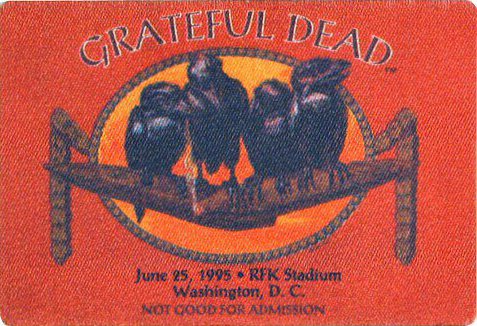 After the passing thunderstorm, so common for a Washington D.C. Summer evening, the clouds lingered and the show went on. For the second night, our group sat in seats on Phil's side and quite close to the stage. I had a floor ticket and went down to stand near the stage during Dylan's set, but chose to stay with my friends for the Grateful Dead's sets. I remember leaping with excitement at the opening chord to "Shakedown Street". I think that response was universal. Only now, twenty years later does it occur to me that they might have selected the song for its lyric:
I recall your darkness when it crackled like a thundercloud.
Possibly this was a nod to the events in the parking lot; I can't say. I can tell you that this "Shakedown" has a sizzling jam that, while it's no 1985-06-30, is worth a listen. There's even a bit that reminds me of a late 70's "Dancin' In the Streets".
Shakedown Street - 1995-06-25
After that, the show rolled through the standard first set offerings of "Wang Dang Doodle", a couple of cowboy songs with Bobby on an acoustic guitar, and a notable "Jack-A-Roe". "Loose Lucy", and "Picasso Moon" wrapped up the set. I have such mixed feelings for "Picasso Moon". I never wanted to see it beforehand and often felt a wave of disappointment as it began yet, I invariably found myself dancing once it got underway.  This one was no exception but it's not, by any stretch of imagination, a great version of the song.
1995-06-25 RFK Stadium, Washington, D.C.

Set One: Shakedown Street, Wang Dang Doodle, Jack-A-Roe, Mama Tried > Mexicali Blues, Loose Lucy, Picasso Moon

Set Two: Box Of Rain, Rain, Samson And Delilah, Ship Of Fools, Truckin' > Rollin' And Tumblin', Samba In The Rain > Drums > Space > Wharf Rat > Not Fade Away

Encore: Brokedown Palace

*Bruce Hornsby on piano for the entire show
Set two gave us a mini "rain set" with "Box of Rain" followed by The Beatles' "Rain". I'm not sure if "Box" was brought on by the "We Want Phil" chant that is audible on the audience recordings but, whatever the reason, it was lovely to hear. We got our Sunday sermon from Bobby with "Samson And Delilah" and a "Ship Of Fools" from Jerry. I recall being particularly excited about Jerry's take on "Rollin' & Tumblin'" when he steered into it rather than extending the jam out of "Truckin'". They'd debuted it ten days earlier at the beginning of the tour and, although it wasn't mind-blowing, it was cool to hear.
Aside from the first set "Shakedown Street", the most frequently noted highlight of this show is the "Wharf Rat". It eases out of "Space", taking time to carefully capture the ear of the audience, and builds to a captivating peak. This is not the best-ever version but it is certainly among the high points in 1995 Grateful Dead. "Wharf Rat" led into the set-closing, crowd-pleasing, rock of "Not Fade Away". After the band left the stage, the audience kept the beat alive with their clapping and chanting until the band returned for "Brokedown Palace".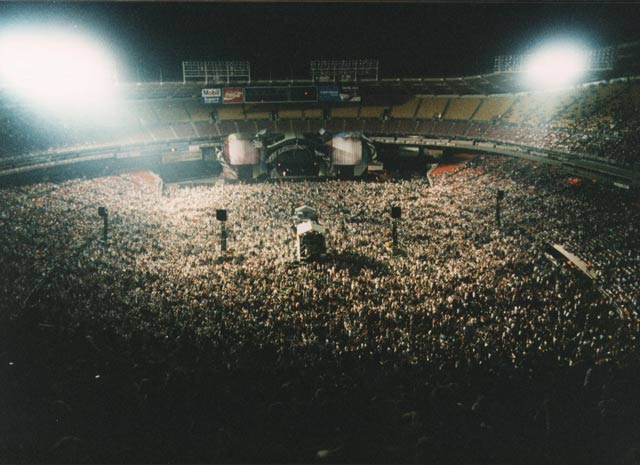 It's difficult for a Deadhead to objectively view a performance of such a song. Only the most colossal of train wrecks could dampen my view of a "Brokedown Palace" if I was in the room when they played it. I enjoyed this performance immensely at the time and, it has only grown in my esteem over the years. My objectivity cannot be engaged due to the personal significance of the final RFK show. I can't honestly say that there was any feeling of finality in there air beyond that of the end-of-the-run. That only comes in retrospect. We walked out of the stadium that night energized. We had another show ahead of us in Pittsburgh and Fall Tour beyond that. Even if the shows weren't perfect, life was pretty great.
Since that night, I've only been back to RFK a handful of times. The aforementioned Tibetan Freedom Festival was a debacle. We saw someone get struck by lightning as Herbie Hancock & The Headhunters played "Watermelon Man". The show ended there. When baseball came back to D.C. I attended a few games at RFK but it was a bit like walking through an amusement park funhouse with all of the lights switched on. The rust showed through the paint job. The magic had faded.  Without the sprawling parking lots filled with fans and the underpasses clogged with drummers, RFK no longer felt like home. The Brokedown Palace had become just another aging stadium.