Keeping the clock wound back to twenty years ago, I could be found, in the early morning hours of March 19, 1995, collecting my friend Joel and my girlfriend from their homes and aiming my '83 Datsun Sentra toward Philadelphia. Several of our friends had gone up two days earlier for the Grateful Dead shows but, due to wanting to keep my job (as mentioned in a previous post), I had stayed behind to work. But, not on Sunday. We aimed to arrive early and scour the lots for tickets to that weekend's third (and ultimately final) show at the Spectrum. It would be only the second time I'd gone to a Grateful Dead show without a ticket in-hand. It would also be the last.
It was still dark when we left Northern Virginia. I don't like to be late for anything. The air was chilly with few clouds as we crossed the Susquehanna River Bridge in Maryland at sunrise. It didn't warm up too much. We arrived in Philly for breakfast, laid back in a nearby park, and waited for the masses to arrive so that we could begin the process of asking each and every one of them for their extra tickets. This is a process that I never enjoyed and always sought to avoid. Walking through rows of parking lots with a handmade sign, shouting my hope to purchase or barter an exchange for an extra ticket. We met up with our friends. Only one of the three had gotten into a show so far. None of them had tickets for this Sunday show. Things were looking grim but I kept looking.
By mid-afternoon my girlfriend was finished. Her feet hurt. Her ticket hadn't materialized out of thin air. She was tired and cold. She gave up and went to lay down in our friend's van.
I kept looking.
Sunset was imminent and we'd still not found tickets.
I decided to make another pass through the lot near our car. The faces all looked familiar. I'd seen their heads shake before. The afternoon party was over and now, the pre-show party was really getting underway.
I kept looking.
I'd upped my offer to include a substantial trade which I was carrying openly and all but my return-trip gas money. I wove through the cars asking each group. Finally, a young kid with short hair and a can of Budweiser in his hand stopped me.
"I've got an extra ticket."
He'd heard my maximum offer. There would be no room to haggle. I repeated it, cash plus trade for his ticket. He produced a ticket from his pocket which I inspected carefully. It looked real but, honestly, I couldn't be certain.
"Deal."
We made our exchange and I ran back to my friends, grinning.
They were not grinning. No one had found a ticket. My girlfriend was obviously unhappy. I would be going in alone. I drank a beer and took off.
This was my fourth Grateful Dead show that I'd attended solo and, as much as I prefer going with friends, I'd grown to enjoy the experience of floating around the room by myself. Meeting strangers, so often quite difficult for me in 'real life', was never a problem at a Dead show. I sweated a bit passing the ticket gate. Counterfeit tickets were floating around the lots but mine passed muster. I plunged in and looked for my seat. Turns out, the ticket put me close to the stage, low on Phil's side. A great seat. As the section filled in, I chatted with my neighbors and one of them (my recall omits this guy's name but I'd swear he said he was affiliated with Deadbase) told me that "Unbroken Chain" had been sound checked on the 17th. They also shared the setlists for the previous nights with me. Things looked to have been pretty good, perhaps better than the previous month's Mardi Gras run I'd attended.
They opened with "Alabama Getaway" which had only just come back into the repertoire. The band seemed up but Jerry seemed a little rough. "Walkin' Blues" was standard Bobby blues. Unlike Jerry, Bobby was playing and singing with force in those days. Next came "So Many Roads". I've often stated that, despite what was to come, this was the best musical moment of the show. Jerry was belting out the ballads in those last few years and this one is a good example.
When Bobby began playing "Easy Answers" I groaned audibly and a couple folks around me gave cheering smiles and knowing nods. It's just not a song I enjoyed. "Don't Ease Me In", however is a great tune and were we not fewer than thirty minutes into the set I would have been ecstatic to hear it. But "Don't Ease…" was a set-closer. This set couldn't be over already. I tried to shrug it off and dance but I was definitely bothered by the way the show was shaping up.
The song ended, the stage lights dimmed, but the band didn't retire. They conferred for a long time. I speculated that they were debating either a "Let It Grow" or "The Music Never Stopped" to close the set. The stage lights lifted and the first few notes hit the air. It wasn't a Bobby song. It was Phil's turn.
It was "Unbroken Chain".
Debuted on the band's 1974 album, Grateful Dead From The Mars Hotel, "Unbroken Chain" had never been performed live. Many in attendance did not seem to recognize it instantly but as recognition and word of mouth spread through the audience, the murmur grew to a deafening roar which then died off as we listened intently. Phil sang at his best and, when the 'jam' passage began, we cheered again. This was some complicated music. The band was moving through the changes, rehearsed yet rigid, without stumbling. Jerry was not delivering blow-out leads but not one of us in the room cared in the slightest. They dished it out and we ate it up. The roar as the song and set ended was immense. Hugs were exchanged. Everyone knew that something special had just happened.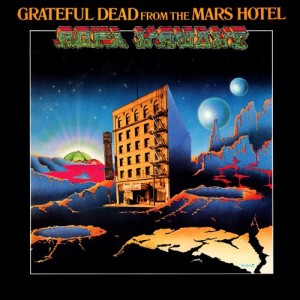 We didn't have cell phones then. The lines at the payphones were crazy long. My friends were all outside, likely unaware of what had just gone down. I nearly ran out to tell them. But wait, there's another whole set!
I stayed.
The audience was certainly energized for the second set. The band seemed to be more relaxed as well. Bobby gave us a little Sunday church in the form of "Samson & Delilah" followed by Vince's "Way To Go Home". Jerry then stepped back to the fore with a nice run at "Crazy Fingers". After Bobby took another turn with "Corrina" (a song that literally frightened me when I first heard it in '92), Jerry steered into a rousing "Matilda".
Drums and Space got dark and as weird as you'd want them to get and resolved into "I Need A Miracle". Jerry's "Stella Blue" was lovely and included a beautiful outro solo and the "Not Fade Away" closer was suitably rockin'.
Only "Brokedown Palace", one of the greatest of the Hunter/Garcia collaborations, could serve as encore to such an evening.  The crowd, ecstatic by the significance of the show, sang and cheered along before we were turned out into the chilly March night.
I sprinted into the lots to find my friends and tell them what I had just seen. They told me that a few dazed fans had come out at set break babbling about "The Chain" but they'd dismissed those folks. Now they couldn't deny the news. I later felt a bit bad about sharing the details with such excitement while they had been excluded from the show. But those were the breaks of chasing the Grateful Dead. Sometimes you catch the lightning. Sometimes you're left out in the rain.