Twenty years ago, I was a twenty-year-old Deadhead with no worries beyond growing my small record collection and obtaining tickets for the next Grateful Dead shows. I'd been seeing them for nearly four years, listening for maybe eight, and I'd just come home from the Mardi Gras run in Oakland, California. My t-shirts were strictly music-related, my trousers corduroy, and my hair was a disaster. I had a girlfriend and a 1983 Datsun Sentra. Both were good enough. My life plans involved seeing any and every amazing concert possible; primarily, but not exclusively, Grateful Dead and Phish; and writing about them for any audience that might have eyes for such things. What could go wrong?
I only managed one show on the Grateful Dead's East Coast Spring Tour that year. Money was tight after my California trip and I was disinclined to quit my record store job, so work took a degree of precedence. After all, Summer Tour mail-order would come around soon enough. But, I had the fortune to be inside the Philly Spectrum when they played the first live "Unbroken Chain". That's the way things went. You never knew which show would be the show. You went when you could and enjoyed what you found.
Dance. Wash1. Repeat.
June rolled around and we caught some Phish shows, followed by the annual Dead shows at RFK Stadium and a one-nighter in Pittsburgh. We mail-ordered for Grateful Dead Fall Tour. My 21st birthday coincided with the scheduled Boston run and GDTS set us up with decent seats. Phish mail order soon followed for what was to become a legendary tour. Life was good. Even when it wasn't. Who could complain about such riches?
One day, the axe just fell. We all knew it would. Even those of us in the deepest denial knew that things weren't going to last. The threat of finality was yet another reason to see as many shows as was reasonable for our lives. More than that, if possible.
When Jerry died, Deadheads all over the world looked to one another and found compassion and camaraderie, while the rest of the world shrugged and kept on spinning. My heart screamed for the universe to stop and mark the moment but it didn't. It doesn't. The universe is indifferent to the wants of the human heart. It gives zero shits and takes zero notice.
Appointing myself a crusader against universal indifference, I took stock. My memories seemed the greatest resource in my arsenal and so, I cataloged them meticulously.
For example, my final show at Three Rivers Stadium on June 30, 1995: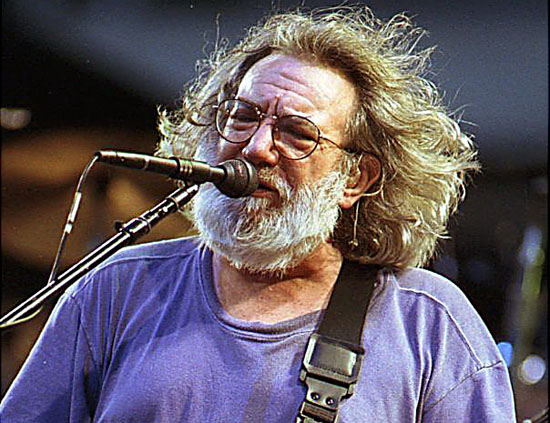 The heat.
The traffic on the bridge.
Jumping from the car and losing my friends until long after the show.
The opening band, Rusted Root, and how they managed to squeeze a few drops of rain from the clouds with their rain chat song, "Cruel Sun".
The heavy tarp covering the baseball diamond and the folding chairs for our eighth-row, Jerry-side, field seats.
Jerry's purple shirt.
West LA.
Bobby singing "Take Me To The River".
Jerry singing "Bird Song".
The heat.
Was that lightning?
The band's long discussion after they took the stage for set two.
Seeing Phil draw a box in the air with his index fingers during that discussion.
The moment that they stepped to the mics for the a capella introduction to The Beatles' "Rain" as if triggering the downpour that commenced at that moment.
A single Birkenstock floating in the inch deep water on the tarp and Phil sang "Box Of Rain".
Hating but forgiving Vince for singing "Samba In The Rain" because, of course he had to do it.
Forgetting any scrap of that displeasure when Terrapin started.
Escaping to the stands during drums for a bit of cover.
The long break before the encore.
Being utterly floored and ecstatic over Bobby singing "Gloria".
Wandering the streets looking for my friend's car for an hour after the show before finding them by luck more than anything.
Spending the night in a frightening skid row motel with graffiti carved into the ceiling à la Shawshank Redemption because the price was right and we didn't care because we'd just seen The Grateful Dead.
I crystallized these memories and those of other shows and clutched them close as the world spun onward. And for twenty years it has done so.
The Grateful Dead remains a memory. A once roaring bonfire occasionally rekindled into a torch, passed about to brighten the world, then returned to the ashen coals; warm inside but little light leaking out.
The Furthur Festival was one such torch. My girlfriend felt her first labor pains as Mickey Hart's Mystery Box played. My first child, Althea, was born 24 hours later.
The Other Ones, Ratdog, Phil & Friends, The Dead, Furthur, The Rhythm Devils, and more, all carried the flame forward. Each brought their own sense and shape to what was and is The Grateful Dead.
Other bands, outside the circle of ashes, carried the light as well. Phish, never much of a Grateful Dead cover band in their early days, and a far cry, musically, from them in the 90's took on a fair slice of the mantle. They inherited the blessing and burden of a large swath of young fans who, in addition to developing a taste for Phish's unique style of jamming and composition, still sought to live the nomadic lifestyle of touring with the band. A marriage of cultures, for better or for worse, came into being in and around Phish shows. There too, the flame was held aloft.
In 1999, after a time of health crisis, Phil Lesh declared that he would not fade quietly into retirement by announcing three Phil Lesh and Friends concerts at San Francisco's fabled Warfield Theater. The tribes buzzed. The internet raced, as quickly as our dial-up connections would allow, to throw fuel on the dim ambers and fan the fire to life. Phil had invited Trey Anastasio and Page McConnell from Phish to join him. Convergence at last.
When I got the news, here on the East Coast, I nearly fell out of my squeaky, second hand, desk chair. I was not in attendance, physically, but my heart was in San Francisco on those nights and, upon getting the recordings, the rest of me was in orbit. Trey is no Jerry Garcia. He has never aspired to be Jerry Garcia either artistically or culturally. But he is a brilliant player with the chops and charisma to lead a band and an audience of over 60,000 fans into space and back again. I've seen it with Phish and I can hear it in those three shows.
Over the twenty years since The Grateful Dead's last bow at Chicago's Soldier Field in July of 1995, the various torchbearers have come and gone. Some spin-offs garnered their own spin-offs. Players cross-pollinated. The music has lived on. The spirit persists.
My daughter, Althea, has gone off to college. Her siblings are growing like weeds. I ride a train to work each day and think idly about Phish tour dates popping up on Twitter. I have access to nearly every Grateful Dead show ever recorded with a few clicks on my phone or computer. Times have changed.
A few weeks back, they confirmed the rumors that the remaining member of The Grateful Dead would be playing a run of shows to commemorate the 50th anniversary of the band. The selection of Trey Anastasio for lead guitar made perfect sense to me. He has not been enlisted to fill Jerry's shoes. That would be a fool's errand and disrespectful to both players. It cannot and should not sound the same as it did twenty or thirty years ago. We've all grown, lost, and lived so much in that time. But there will certainly be magic in the mix. Anyone with open ears should be able to tune it in.
Upon hearing the official word, I reached out to my friends and we instantly agreed that we would go. How could we not? When the band hits the stage in Chicago, it will have been 20 years and three days from my last Grateful Dead show. Nothing can change my memories much less diminish what The Grateful Dead are to me. Those are crystallized and held untarnished forever. I'm going to Chicago to celebrate that history and light a candle to carry into the future.
I can't wait to see you there.
1 –Insert unbathed hippy joke here.
-Thanks to Terry Larkin for the use of his excellent envelope art for this article's featured image.