(Or: How I Learned To Stop Worrying And Leave Phish Behind)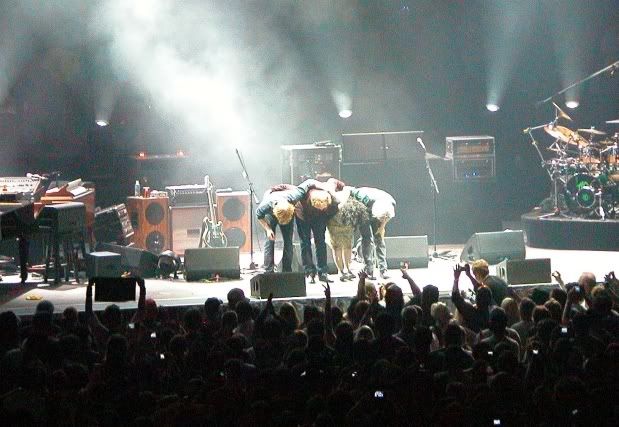 When asked about my favorite music, people who know me are likely to identify two groups: The Grateful Dead and Phish. They'd be half right. Not that anyone should feel remiss for the mistake; my kids would probably offer the same response. The truth is that I have fallen out of love with Phish.
In the 90's my musical world exploded into full life with The Grateful Dead. A few years later, I saw my first Phish show. Those two became the largest contacts on my radar and so life went for quite some time. Yes, I listened to tons of other stuff. I worked in a record store and amassed a hefty collection of music ranging from Louis Armstrong to ZZ Top. But Phish and The Grateful Dead continued to pull me back and dominate my listening and concert attentions.
The Grateful Dead ended and still I'd play their albums and live shows endlessly. Phish remained on the road and I saw them as often as life would allow and still I wanted to see them even more frequently. I collected tapes (remember tapes?) and CDs of their shows and they too stayed near the top of my playlists even during their hiatus and after their eventual 'break-up'.
Phish used to jam. As a serious fan, I loved most of their material, including that which does not incorporate jamming, but it was the jamming and wild unpredictability that held my attention with Phish. When Phish came back in 2009, I was as excited as any fan (this blog is my testimony) and I went to the Hampton reunion shows and many more that year. The shows were fun. I had an amazing time reconnecting with old friends and sharing the shows with newer friends as well. But the music was not the highlight.
Last year, I found that listening to new Phish had become a chore. What had been a pleasurable obsession became an annoyance and, at times, I felt guilt about that annoyance. Guilt? Here was one of my so-called favorite bands, returned from rock & roll oblivion, and I couldn't really enjoy what they were doing. Was it me? Had I changed that much? Had they?
It's always been easy to find people who dislike Phish. In recent years it's become nearly as easy to find former fans. Serious tourheads turned haters are all over the message boards. But why are they haters? Many are not willing to be more articulate than to say, "Phish sucks now," and I'm pretty sure I've fired off a shot or two like that, myself. It's easy. What's hard is explaining why.
I mentioned jamming. I know the Phish 3.0 fluffers have a few jams at-the-ready to defend their favorite band but spare me. One hundred shows into their comeback and Phish hasn't gotten in touch with "IT" more than a handful of times? At first I thought, "they just came back. They need to play some more shows for it to happen." But it's become clear to me that Phish is happy with their output.
Also happy: lots of fans.
Not as happy: promoters of what used to be guaranteed sell-out shows.
Also not as happy: people who want a Phish that plays well enough that the music plays the band.
Not to play the jaded vet card but, it used to be the case that every Phish show I saw was great and better than the last and it seemed unlikely that they could outdo it tomorrow. Then, they'd outdo it tomorrow. Now, it is just not like that. Phish appears to have stopped moving forward. Occasional spurts of inspired playing are bookended, often in the same show or set, by sloppy, careless, performances of what should be rote material. The problem is that you don't get to be as tight as Phish-of-the-mid-90's by rehearsing for a week or two before tour and at soundchecks. You get to be The Grateful Dead in the 90's.
I, of course, LOVED seeing The Grateful Dead in the 90's but, objectively taking into account what they had done for the previous 25 years, that was often a poor imitation of The Grateful Dead. At age 18 I wondered why the older Deadheads that I knew, ones who had seen the band in the early 70's, didn't make an effort to see every show possible. I saw that the road couldn't go on forever and I wanted to grab up every note before none remained and I didn't see why they weren't chasing it as fervently as I.
I get it now.
And so begins my semi-retirement from Phish. I do plan on seeing one local show this Summer. But I won't be attending SuperBall IX* or travelling to the West coast for shows (unless a miracle of scheduling has me finishing work in Seattle the week of the Gorge shows.) I won't be listening to every show the day after it happens and I'm not likely to be following set lists as they roll in. (I will continue maintaining my twitter list, Phish-News because it's easy and useful.) Instead I'm going to continue in my quest to experience bands that jam and other hair-raising, psychedelic, music. Look for me at MPP1 and any Mid-Atlantic Akron/Family shows!
*Super Ball Licks? That's just too easy!