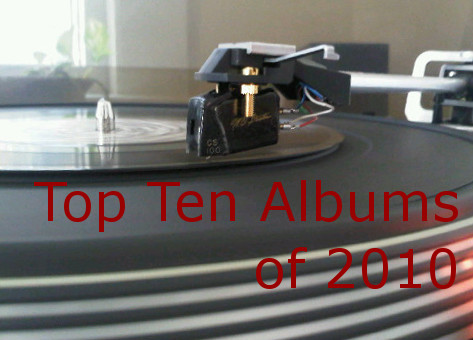 It's that time of year again and I'm finally ready with my favorite records of 2010. These have been selected by an utterly subjective process of constant listening to almost exclusively 2010 releases for the past couple weeks. This has allowed me to rediscover a couple records that perhaps came out early and have since fallen off my radar (none of those made the cut) and also to catch up with some that I missed altogether and, of course, the more recent releases. Here you'll find all kinds of music (Country AND Western!) but really only a sampling of the stuff that I really like to listen to and hope to listen to for years to come.
Here we go:
10 – Tame Impala – InnerSpeaker
Hows about of Australian psych-pop to kick things off. Seriously., a record like this is a good place to start anything. This record (and band) really captured my imagination in 2010 and it all started with the terrific single, "Solitude Is Bliss". There are weirder bands out there (Stardeath And White Dwarfs, anyone?) but these guys perfectly blend rough edged psyche with the polish of brit-pop.
9 – Aloe Blacc – Good Things
Proper soul music that nails it in every category: vocals, lyrics, performance, and arrangements. Elements of Heron and Mayfield are recognizable in this rapper-turned soul singer latest record. Oh, and how about that riveting take on VU's "Femme Fatale"? A good friend hipped me to this and I've enjoyed it from the first note.
8 – Admiral Radley – I Heart California
Jason Lytle (who topped this list last year) teamed up with two members from Earlimart and made their first appearances at this year's SXSW under the guise, Admiral Radley. The record soon followed and complements Lytle's catalogue with his humour and slacker psych rock. The songs are great, and the hooks are strong, making this a fun listen.
7 – Junip – Fields
This record came out-of-the-blue for me. a few friends were raving about it and I figured it would be just another indie record that I'd play once and move on but I quickly fell for its charms. Krautrock trances, indie-pop melodies and dizzying production that includes vocals nestled tightly in the mix make this my favorite driving record of the year- as long as the sun is up or I've had my coffee. Sleepy isn't the word but it can induce a meditative state if you are susceptible to such a thing. Myself? I might be; but I dig it, too.
6 – Broken Bells – Broken Bells
Danger Mouse has led a semi-charmed life on this site of late. This project, a collaboration with The Shins' James Mercer, continues the win streak with a collection of entrancing songs. The hooks are stellar and the whole record pays off with repeat listens. This is another one which did take a few listens to fall for the entire record (although the opening cut, "The High Road" is one of the more infectious pieces of the year) but it begged additional listens and the reward is rich.
Click through to see the top five and more!
5 – LCD Sound System – This Is Happening

I totally missed this release at first. Maybe it was the initial turn-off by the single, "Drunk Girls". But, even after I came around to that track, I didn't allow myself to delve too deeply into the rest of the record. This Fall, however, it clicked over for me as I rode home on the evening train. James Murphy and Co. may not be breaking much new ground here but they are strongly defending the territory carved out on their earlier releases. Honest lyrics and driving grooves conspire to move your feet and tickle your intellect. For those keeping score, I'd put this at number two tied with the s/t album and behind Sounds Of Silver.
4 – Gayngs – Relayted

The rock-writer buzzword for a band like this is "collective". Although masterminded, produced and fronted by the Minneapolis-based Ryan Olsen, this group and features more than a dozen artists based or in some way connected to the Upper Midwest. Notably, Justin Vernon of Bon Iver is appears on vocals and his former band mates and now Raleigh, NC band, Megafaun show up prominently on the album as well. The music is a seamless collection of psychedelic soul slow jams for the stoner and his lady and it's infectious as hell.
3 – Arcade Fire – Suburbs

This one didn't make muster for me when I first heard it. But, having had a similar initial reaction to Neon Bible, I went back and sure enough, I fell for the swirling strings, marching drums, photographic lyrics that delivered me to a setting that is stunningly familiar. Even if you didn't grow up in the suburbs, the stirring pictures speak volumes and the music is strong enough to support it.
2 – The Tallest Man On Earth – Wild Hunt

I came in to this album fairly uninformed after seeing him in a youtube video with Megafaun and receiving a recommendation of a friend. The writing in folk music this quickly captured me and the melodies and terrific performance held me. The artist's name is Kristian Matsson and hails from Sweden but his music is steeped in Americana. I think I played this three times in a row when I first got a hold of this album and since, it's been an easy choice to go back.
1 – Megafaun – Heretofore

I've talked about this band and this record at length on this site (here and here, for example) so it really shouldn't come as a shock that I'm putting this release on the top for 2010. Their blend of folk, psych, and Americana is just what I look for in a record. Yes, they did dub this a "mini-album" as its run time is rather slim but the songs and the stunning instrumental on this thing are quick to draw you in and leave you wanting more. Good news, though, the band spent a fair bit of last month in the studio tracking their next release so the wait shouldn't be terribly long.
---
Here's a couple that almost made it:
The Roots – How I Got Over
The Woods – At Echo Lake
Jónsi – Go
Deerhunter – Halcyon Digest
Sufjan Stevens – The Age Of Adz
---
Other notables:
Atlas Sound – Bedroom Databank
releases
What can I say? I liked Halcyon Digest but it didn't make my top ten. (Def. top 20, tho.) I liked these more, honestly. They're different so I'm not directly comparing; I just like these more.
Danger Mouse and Sparklehorse – Dark Night Of The Soul
Did you see last year's list? Although leaked last year, due to disputes with EMI, this didn't see an official release until 2010. So, that makes it pretty notable and, I considered putting it into the running for the top ten a second time (it wouldn't have been fair.)
Wilco – Kicking Television: Live In Chicago (4xLP)
This already great live album got a lot greater when they release the extended 4-lp edition of this on Record Store Day. There's 1.5 sides of extra material on this thing and it's straight up rockin'.
That, of course, didn't make the list because it's a re-issue. There's been a ton of great stuff coming back out on vinyl these days and I couldn't possibly write about it all. Off the top of my head, I'm eyeing the Dylan mono reissues and the early Neil Young albums. Feel free to chime in (kindly) on the comments with a favorite that I may have missed.
---
It's been an interesting year. Hip Hop almost cracked my top ten and three much-anticipated followup albums (Deerhunter, Dr. Dog's "Shame" and The New Pornographers' "Together") did not. The indie hype-machines failed to convince me that Sleigh Bells is anything but annoying. Neil Young put out an album (Le Noise) that sounds great on paper (solo! Lanois!) but quickly wore out my ears (I like a lot of the lyrics, though.) In the end, my picks are not altogether surprising but, though they may not fall in line with the mainstream or indie critics, they are still my favorites.
Until next time…
-rj